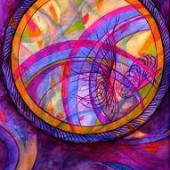 We live in the "Just do it!" society. Emotions aren't something we've been taught to attend to and talk about. When I was in grad school, emotions were categorized in simple terms, as primary [anger, fear, anxiety] or secondary [guilt, shame]. In the late 20th C, positive psychologists ushered in a broader lexicon: wonder, awe, serenity, amusement, gratitude.
Today I came across something I wish I'd considered years ago. It's from novelist Jeffrey Eugenides' novel Middlesex. It sure works for me. What about for you?
"Emotions, in my experience, aren't covered by single words. I don't believe in 'sadness,' 'joy,' or 'regret.' Maybe the best proof that the language is patriarchal is that it oversimplifies feeling. I'd like to have at my disposal complicated hybrid emotions, Germanic train-car constructions like, say, 'the happiness that attends disaster.' Or: 'the disappointment of sleeping with one's fantasy.' I'd like to show how 'intimations of mortality brought on by aging family members' connects with 'the hatred of mirrors that begins in middle age.' I'd like to have a word for 'the sadness inspired by failing restaurants' as well as for 'the excitement of getting a room with a minibar.' I've never had the right words to describe my life, and now that I've entered my story, I need them more than ever."
I like "hybrid" emotions like the contentment and curiosity that come from watching the resident downy woodpecker couple sharing the suet feeder with a pair of hungry nuthatches. I'd like a word for the fascination of discovering a fleeting and complex reflection of sunlight and shadows on the dining room wall. Better yet, how about a word that captures the heavy sense of sorrow that arises from a leader's story of employees worrying about loss of turf?
What "Germanic train-car construction" speaks to you?
Thanks to Alicia Morga for finding this little gem.