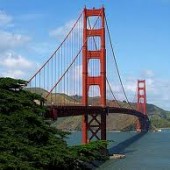 One of my colleagues, Bob Tschannen-Moran, has written a weekly newsletter for years. I enjoy it immensely. This week he wrote about kindness. He retold an old story with a new twist, which  he borrowed from National Geographic photographer Dewitt Jones. It reminded me of how powerful little acts of kindness can be. Here it is [from provision #742 of Bob's newsletter].
"Several years ago, there was a woman in San Francisco who wrote an article called Random Acts of Kindness. Maybe you've read it. Maybe you practice it. I loved the article. I believed in the concept. Random acts of kindness. Well, since she lived in San Francisco, one of her suggestions for such a random act was to pay the bridge toll of the guy behind you when you crossed the bridge.
"And at that point, you know, I lived just across the Golden Gate and every time I'd come to the city, I'd say, 'Ok, today's the day!' And then I'd drive a little further and I'd go, 'Uh uh. Today's not the day.' I don't know why, I just couldn't do it.
"So one day, I just grabbed hold of myself and I said, 'Today is the day. I don't care if you don't think you're ready. Just act as if you are.' I mean, I've discovered that sometimes, you just have to act as if. Even if you're scared. Even if you haven't worked the kinks out yet. You just begin to make your own light by acting as if.
"So, I got out six bucks. Three for me, and three for the guy behind me. And I drove into the toll booth and I looked in my rear-view mirror and hidden behind me slides a gleaming, black Porsche. Like he needs it, right? I'm not a Porsche kind of a guy; I drive a gray, dusty Subaru. But I rolled down the window and I hand the money to the girl who's taking the tolls and I said, 'This is for me and the guy behind me.'
"And she looks down at my Subaru and then very slowly she looks over at the Porsche. And she looks back at me and she says, 'You don't know him, do you?' And I said, 'No I don't.' And she just broke into this huge smile. A wonderful smile.
"And I drove out of the toll booth and I looked in the rearview mirror, here was the guy in the Porsche, trying to hand her the money. And she was talking to him; I don't know what she was saying but finally he pulled his hand back in and he accelerated from zero to sixty in about 2.4 seconds. As he passed me, he let go of the wheel, looked over at me, and went 'Yes!'
"I don't know if I made his day. I think I did. I think I made her day. But I know I made my day. I mean, I will never forget that feeling, which all began by acting as if. And every once in a while, I take out six bucks as I cross the Golden Gate Bridge."
The positive psychology folks have been telling us for a decade  that random acts of kindness are good for the soul [and the body]. How often do you practice them? When was the last time you paused in heavy traffic to let someone pull in front of you from the side street? Or held the elevator for someone when you were in a rush?
Here are two key points about random acts of kindness. One, if you have any expectation of reciprocity, you've missed the mark. The joy of these acts is in the doing, not the receiving. Two, pay attention to how you feel afterward. Let yourself savor the well-being that radiates from kindness for the sheer joy and fun of it.