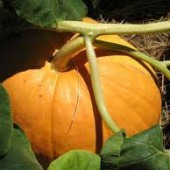 "It's been great talking with you, but I feel my pumpkin light flickering." That's an escape strategy one of my clients uses with talkers who are unaware that their listeners are no longer listening.
I loved the whimsical quality of it … which may be why it helped me see my own light flickering recently.
Last weekend my son and his girlfriend were in town. Sunday they brought home 3 big pumpkins to carve. I've not carved pumpkins since Michael was in middle school. At first, I was going to rake leaves while they carved. Then I reminded myself: I have lots of chances to do yard work. This chance may not come again.
So for an hour, we cut and carved and talked and laughed. We had a bowl full of slimy pumpkin guts and another for slippery seeds destined for roasting. It was great fun.
When we were done, we took the pumpkins into the garage, lit their pumpkin lights, and admired our work.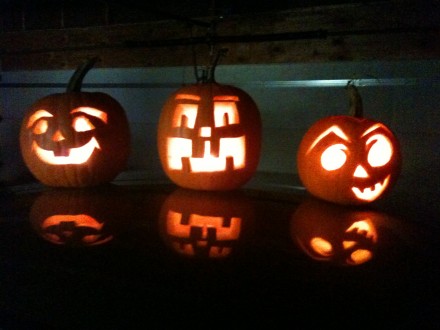 I later realized that without a kid in the house, I've let Halloween and other pumpkin lights flicker. The rationale I've used is simple: "Why go to all the time and effort when I'm the only one here now?" But that's my own escape strategy, an avoidance of staying fully engaged in the world of special occasions. I used to go all out, but in recent years, I'd not missed them … until I started to carve that pumpkin.
Before the kids left, we lined up the pumpkins on the back porch so I could admire them as I came and went. By week's end, time and voracious squirrels had reduced them to recycle material. Everything changes. Yet the memories remained.
That's when I saw the risk: my personal life was becoming a dull ribbon of routine. Conserving effort was robbing my life of its brilliance. Halloween has always been a favorite. If I let it and other special occasions be replaced by the unbroken routine of 'easy,' the sameness will likely tarnish other parts of my life and work as well.
So I've resolved to carve more pumpkins, run my hands through more slimy innards, and do my best to keep the lights from flickering. This past weekend, I dragged a dear friend to a neighborhood costume street party. It was great fun: the later the hour, the wilder the costumes! Being out and about with thousands of revelers reconnected me with the world in ways that I've not felt in a while. My pumpkin light was glowing. I can hardly wait get up close and personal with a turkey and the makings of oyster dressing.
What's flickering in your home or work life? And what would help you reconnect and recharge?